2022 Chrysler Pacifica Hybrid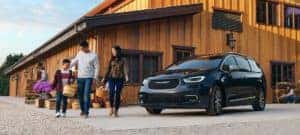 The 2022 Chrysler Pacifica Hybrid is a multipurpose van that is designed to take away as many stressors as possible while you're driving. With the newly available Amazon Fire TV and 3.6-liter V6 eHybrid engine, the Pacifica Hybrid is ready to take on 2022 with its updated look. We at Landers want to introduce you to the 2022 Chrysler Pacifica Hybrid so you can know whether this hybrid is right for you. Read further to know what we know.
Within the new Chrysler Pacifica, it is now possible to add the Amazon Fire TV for Auto. This means anywhere, at any time, Pacifica passengers can catch up on the show or movie of their choice. Amazon Fire TV for Auto connects to different streaming apps, as well as the Uconnect 5 system that is found on the van's touchscreen.
The 10.1-inch color touchscreen that sits between front passenger seats on the dash can be connected to the available Amazon Fire TV for Auto. The touchscreen can also help you make a charging schedule, know how long you have until the next charge is needed, view the power flow, and review your driving history, along with its ability to connect to your phone, play audio, and provide navigation.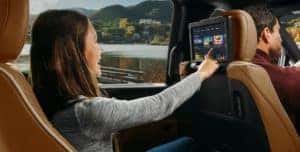 Once you've decided where you're going and set your map up on the touchscreen, you need to make sure your passengers and cargo are ready to go. The 2022 Chrysler Pacifica Hybrid, even with all seven seats filled, has plenty of cargo space. There are three rows of seats and the cargo space behind each. However, if you have more cargo than passengers, the second row is removable and the third row folds into the floor.
Seats all set, bags packed, and navigation set, it's time to rely on what makes this hybrid work to get you to your destination. The Pacifica Hybrid works with a 3.6-liter Pentastar V6 eHybrid engine and 260 horsepower. After as little as two hours of charging, the hybrid has an estimated 520-mile range, with at least 32 of those miles as all-electric driving. Then while driving, the Chrysler Pacifica Hybrid also comes equipped with a regenerative braking feature, where each break tap will help charge your battery while you drive.
The 2022 Chrysler Pacifica Hybrid is here to make your trip, whether to the supermarket or the amusement park, so much easier. This hybrid SUV is ready to hit the streets!