2023 Cadillac Escalade-V in Joplin, MO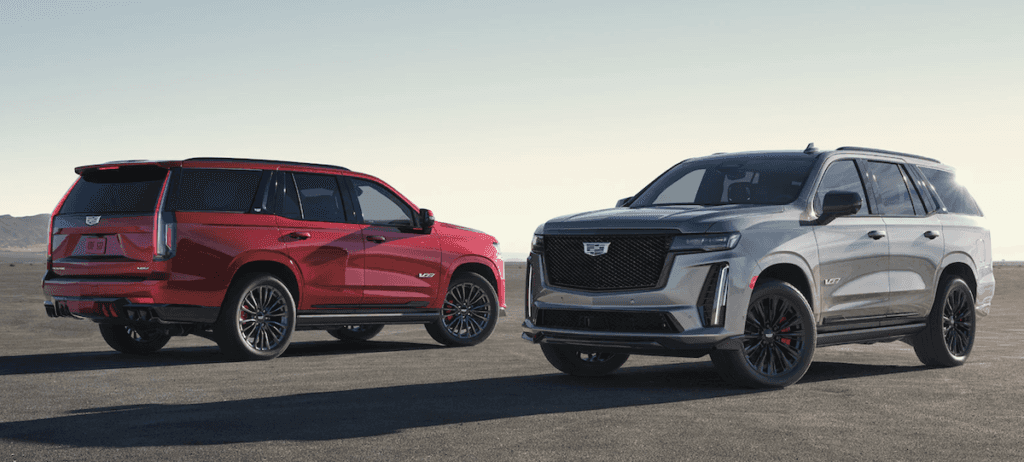 The all-new 2023 Cadillac Escalade-V has been announced! If you're looking for truly opulent luxury paired with a fire-breathing motor, Cadillac has delivered the perfect full-sized SUV for you. The current Escalade has been a huge hit with its impressive new technology and bold, brawny styling. The 2023 Escalade-V turns it up to 10 and provides that notch of exclusivity that luxury buyers yearn for. The 2023 Cadillac Escalade-V will be out soon. In the meantime, check out our current new Escalade options at Landers Cadillac in Joplin, Missouri!
Click here to view our new Escalade selection.
The 2023 Cadillac Escalade will be the first SUV to sport the high-performance V-Series badge. With nearly two decades of racing-inspired prowess, the V-Series designation is reserved for vehicles that encompass the peak of Cadillac performance, innovative technology, and bold, distinguished design. It looks like Cadillac will offer the Escalade-V in both standard and ESV body styles.
The hot stuff on the 2023 Cadillac Escalade-V is going to be the monstrous powerplant. While Cadillac has not officially announced what engine will power the Escalade-V, we expect it to be the famed supercharged 6.2-liter LT4 V8 found in the CT5-V Blackwing sedan.
The 2023 Cadillac Escalade-V looks good, like really good. The exterior features black accents with a revised front fascia, new wheels, red-painted brake calipers with high-performance brakes (we expect these to be Brembo), quad exhaust tips, and a slew of interior and exterior "V" badges.
We expect the Escalade-V to house the same great technology as the current Escalade. Curved screens, AKG audio, massaging seats, augmented reality, and leather covering almost every surface will steal the show once you open the door.
If you're looking for a high-horsepower SUV that can take the whole family, look no further than the exciting new 2023 Cadillac Escalade-V! We expect to see this hopped-up SUV soon at Landers Cadillac in Joplin, MO!