Fayetteville's Taylor Powell Wins 2016 Landers Award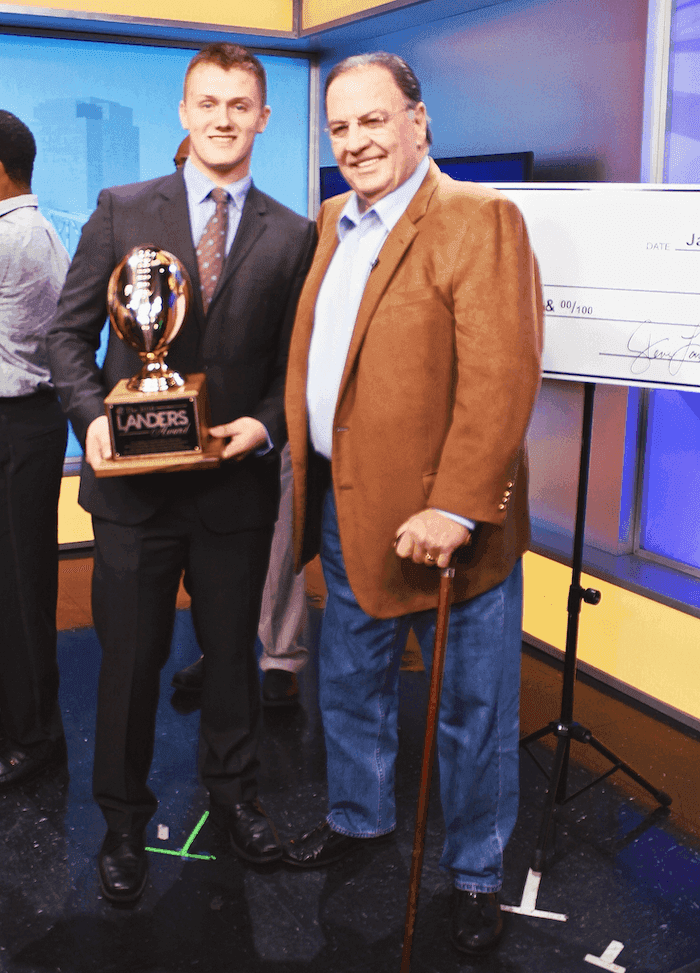 Taylor Powell, senior quarterback for Fayetteville High School and two-time nominee, was named the winner of the 2016 Landers Award on Wednesday, Jan. 18, 2017.
Powell is the 17th recipient of the award, which has been given annually to the state's top high school football player since 2000. Previous winners have included Darren McFadden, Tyler Wilson and Brandon Allen, all of whom went on to play for the Arkansas Razorbacks before being drafted into the NFL.
Powell was presented with a trophy, Jostens ring and a $3,000 scholarship for his high school during a live broadcast at KATV studios, hosted by Steve Sullivan.
"Hopefully it's just a starting point for a great college career," Powell said of winning the Landers Award.
Powell plans to play for Wake Forest in the fall and thanked everyone who has made an impact on him.
"I just want to thank my parents and grandparents and all the coaches back home, my best friends, all my teammates for getting me to this point," he said. "And I just want to say it's an honor to be with all these great athletes and everybody is deserving of this award. I feel like everybody's going separate ways in the country for football and I hope we represent Arkansas high school football in a great way."
In addition to Powell, the top 11 finalists were given plaques. The finalists are Pierre Strong of McClellan, Koilan Jackson of Joe T. Robinson in North Little Rock, Jarrod Barne of Cabot, Jordan Washington of Sylvan Hills in Sherwood, Nathan Page of Joe T. Robinson in North Little Rock, Jaren Watkins of Pulaski Academy in Little Rock, Alex Day of North Little Rock, Tre Norwood of Northside in Fort Smith, Noah Dotson of Alma, Cale Fulson of Russellville and Darius Hopkins of Nashville.
"Steve Landers Auto Group is just really proud to sponsor this each year," Steve Landers said during the broadcast. "These guys have got a great future ahead of them and I know some of these guys personally and they're just great athletes."
Check out the Facebook pages for Landers Toyota, Landers Kia and Landers Chrysler Dodge Jeep Ram to view our live coverage of the Landers Award presentation. For more information on all the finalists, check out KATV's story.