Everyday Heroes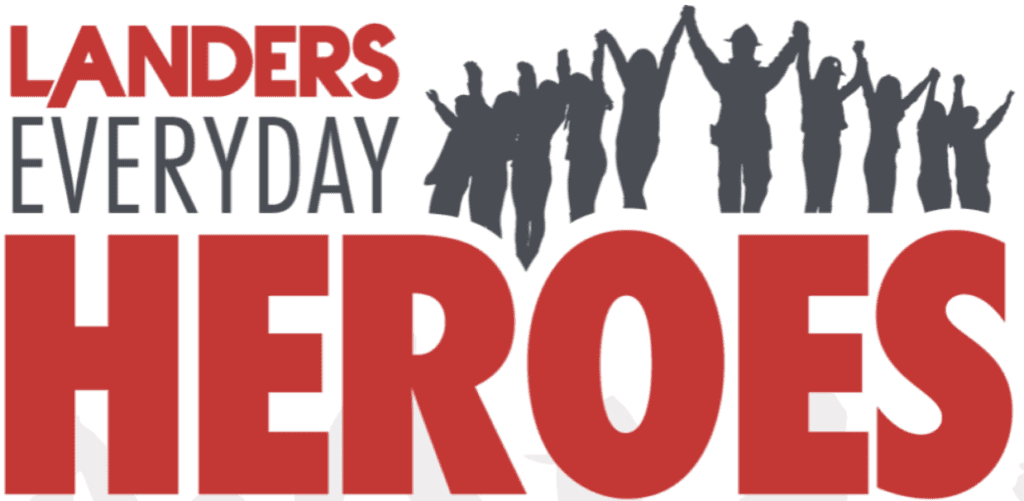 At Landers, we believe that there is more to life than selling cars. Being a part of our local communities is important to us. Not only do we supply our neighbors with safe, reliable transportation but we sponsor local education programs and new business opportunities to continue growing this great place we call home. Not too long ago, we launched the Classroom Heroes program to pay tribute to our local educators who do so much for the next generation of our community. We chose a Classroom Hero every month during the school year and it culminated in an overall Semester Hero at the end of each semester. This year, we are expanding this program to include Everyday Heroes.
Landers Everyday Heroes recognizes and rewards individuals of all vocations and walks of life for their kindness, dedication and service to others. Landers Everyday Heroes honors the heroes who don't wear capes — the police officers, nurses and ordinary citizens who make an extraordinary difference in the community by going above and beyond the normal call of duty.
Now we need your help! We need YOU to nominate the Everyday Hero in your life. Each month, we'll choose an Everyday Hero from two Landers regions to highlight and celebrate! If chosen, the winner will receive a prize of $500!
Regardless of occupation – whether they're a business owner, nonprofit organizer, server, bus driver, retail manager, nanny, accountant, firefighter or are in another industry – we want to honor the hero in your life.
In case you aren't too familiar with the regions Landers does business in, these regions include Central Arkansas, Northwest Arkansas, Norman/Oklahoma City Metro, and Joplin/Southwest Missouri. As of the time of writing, we have over 20 nominations!
To nominate your Hero, click here!
Have questions? Feel free to contact our team here and we will be happy to answer any queries you may have about the submission or award process.
If you are in the market for a new vehicle, click here to browse our entire vehicle inventory at Landers. We look forward to serving you soon!