Playlists for Your Next Road Trip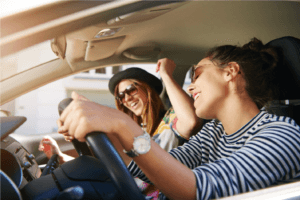 It's time for your next road trip adventure! But before you hit the highway, make sure to add some fun-loving tunes to your playlist. We've got you covered with our selection of songs that will not only keep the good vibes rolling on your journey but match where you're going and what you're driving. We took the guesswork out of "Which song should I play?" Now, let's jam. 
Silverado 1500
This playlist includes both old and new country, so you'll be able to sing along and get nostalgic. Some of the tunes are about trucks and, ya know, most of them are about heartbreak. Don't say we didn't warn you.
Corvette
Enjoy this good mix of old-fashioned rock-and-roll, plus smooth R&B classics. Trust us when we say you don't need to press skip on any of these because they will set the tone for your cruise, with the top down, of course. Before you know it, you'll be halfway to your destination. 
Chrysler Pacifica
No arguing over this playlist because it includes something for the entire family! These are awesome songs to sing along to on a drive because, hey, the car is our favorite place to sing. Turn up the volume and have some fun with the family. We won't tell anyone you know all the words to Miley Cyrus' new song.
Jeep Wrangler
It's a list as rugged as it sounds. Think plenty of low-key music for the mountains, like Jack Johnson and Zach Bryan. It's the absolute perfect fit for a chill cruise surrounded by nature. Sit back, relax and keep this playlist handy because you're going to want it on repeat all summer long. 
While you're creating your playlists, you should definitely check out our hundreds of vehicles that feature Apple CarPlay! It's an easy way to enjoy your music while riding the car and an excellent addition for music lovers. Enjoy the ride!