Salvation Army Donation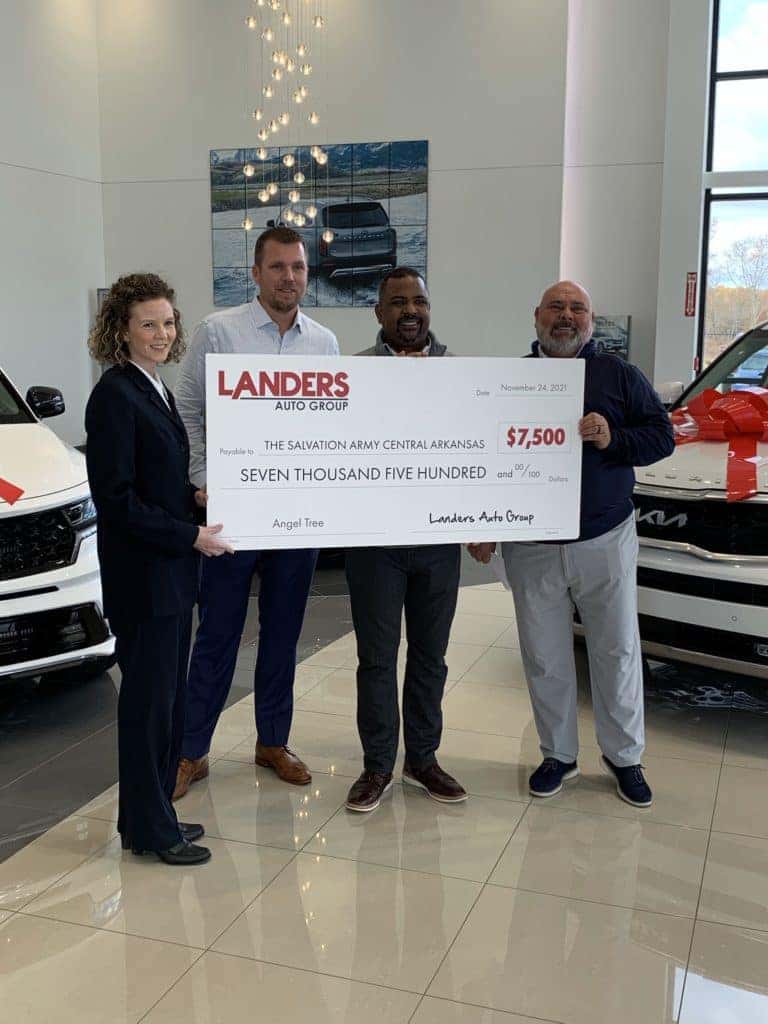 On November 24, 2021, Landers Auto Group reached out to help its community for the holiday season. We at Landers Kia, Landers Toyota, and Landers Chrysler Dodge Jeep Ram in Little Rock, Arkansas donated $7,500 to The Salvation Army in Central Arkansas. The donation will specifically go to the Angel Tree program to help provide Christmas presents to children and families in need this December. 
For families that may have a bare floor under their tree this Christmas, the Salvation Army created the Angel Tree program to help. The program provides clothes and gifts to the angels in the program. An angel in the Angel Tree program is a child or senior adult in our community that may not have anything under their tree this season. We're thrilled to help give back and inspire the future for those around us. 
The Salvation Army was founded in 1865 by William Booth in Britain. Even before the creation of the organization, the Booth family was known for helping those around them. While the organization was first a Christian mission that was known as the Volunteer Army, there was a name change 13 years later. The Salvation Army name came from the idea that as a group that finds its foundation in evangelistic and Christian practices, they were supposed to give their lives to the serving God and those around them. 
The army wasn't always as big as it is today. Though at first skeptical at the idea of expanding out of Britain, Booth was eventually swayed to expand to America in 1879, with an official branch opening the next year. Now, the U.S. branch alone helps over 30 million Americans each year. The Salvation Army's mission statement is as follows: 
"The Salvation Army, an international movement, is an evangelical part of the universal Christian Church. Its message is based on the Bible. Its ministry is motivated by the love of God. Its mission is to preach the gospel of Jesus Christ and to meet human needs in His name without discrimination."  
"Do Good, Feel Good" is the Landers motto. Join us this season to help support our community this year! Check out our other blog for places to donate this holiday season.