A Few of Our Favorite Fuel-Efficient Vehicles
It's time to be kinder to your wallet and the environment with fuel-efficient vehicles! Whether you're looking for something economical, eco-friendly or a combination of both, here are just a few of our favorite fuel-efficient cars that give you great value for money. Make the switch today and save big on gas all year long!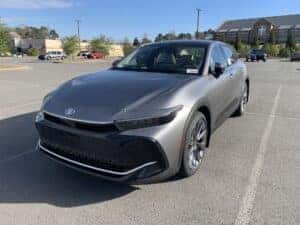 2023 Toyota Crown
A Toyota is always a great choice! The first two trim levels of the 2023 Crown — XLE and Limited — get a less powerful 236-hp hybrid system that uses a 2.5-liter four-cylinder and three electric motors.  Every new Toyota Crown has this electronic form of AWD as standard. Fuel economy is excellent, with 30/41 city/highway miles per gallon. What's more, Toyota has confirmed that a plug-in hybrid Toyota Crown Prime is on the way!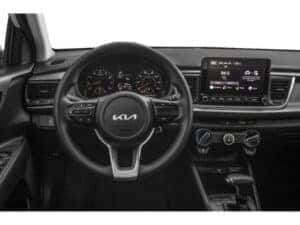 2023 Kia Rio
Let's face it. This vehicle is easy on gas. Who wouldn't love that? Its awesome fuel economy is one of its best features! Whether the small sedan version or the hatchback, both versions are propelled by a 1.6-liter, 4-cylinder engine delivering 120 horsepower and 112 pound feet of torque. It has a continuously variable automatic transmission and front-wheel drive. These are mild output numbers, but the upside to that is the excellent fuel economy. The Rio averages 36 miles per gallon between city and highway driving.
Kia Rio and Kia 5-Door: What's the Difference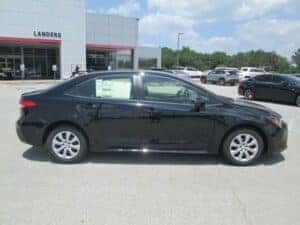 2023 Toyota Corolla
Quick summary. Fuel efficient! An impressive fuel economy is a huge part of the value proposition of this vehicle. The standard 4-cylinder engine is rated at 31 city/40 highway/34 combined miles per gallon. The 2023 Toyota Corolla upholds the model's well-earned reputation as a safe, reliable, and fuel-efficient choice in affordable compact cars. No matter what the gas price is in your area, the Corolla has lower fuel costs than most of its rivals.
Browse Toyota Corolla Inventory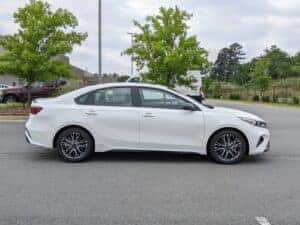 2023 Kia Forte
The base LX trim level wins the "least time spent at a gas station" award. It's definitely the most fuel-efficient version of the compact sedan range, averaging around 35 miles per gallon. It's also the cheapest to buy, so it's a win-win! The LX, LXS and GT all have a 2.0-liter engine with 147 horsepower and 132-pound feet of torque. Let's go!
View our Kia Forte Inventory Now
Wanna take it to the next level? Here are our top electric cars ranked by driving range!